The device controls airsoft gun shooting parameters and enables its setting
through smartphone application. Controlled parameters are e.g. cadence,
burst length, spring pretensioning etc. The smartphone application enables
statistics tracking and evaluating.
Technologies:
STM32

Bluetooth Low Energy

Remote firmware update via Bootloader

Smartphone application for parameters setting and
creating statistics

Firmware update by user via mobile app

Optical sensors calibration via mobile app

Statistics monitoring (battery voltage, temperature and el. current on mosfet,
shooting speed, etc.)

App for Android, iOS and Apple Watch

All Leviathan series models (Evo3, V2, NGRS, V3...) can be maintained in one app

Production app and Developer's app with individual server for each to separate
user's and developer's interface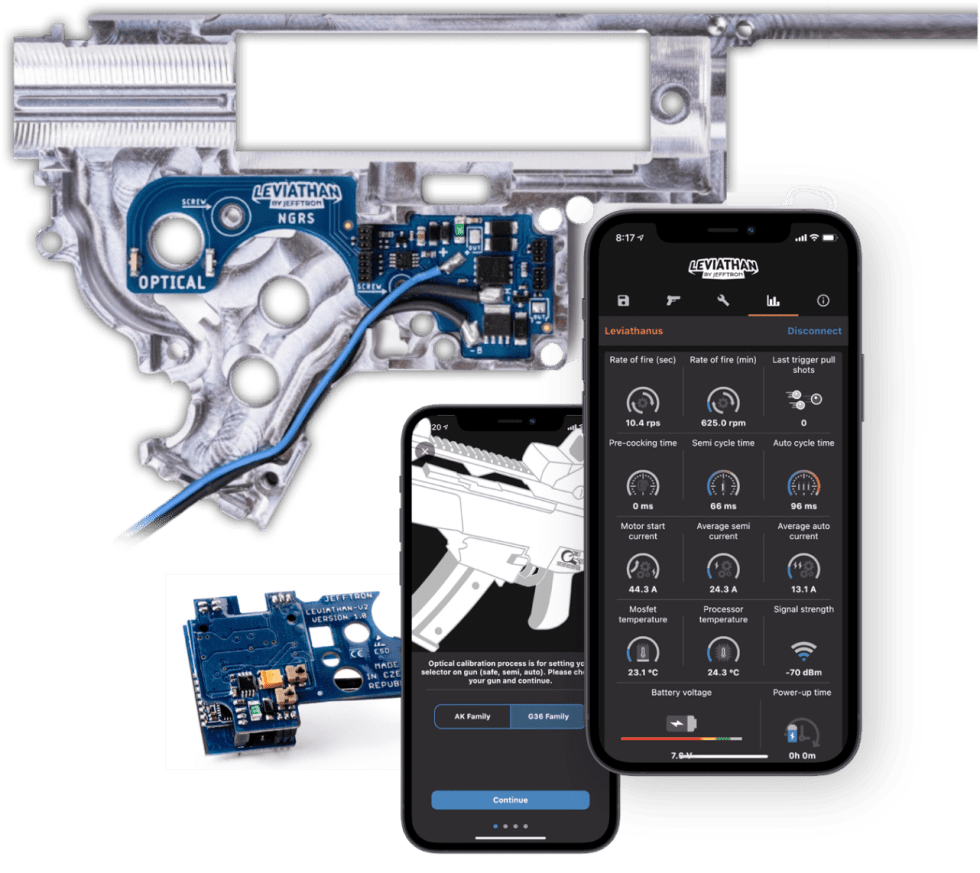 We needed to create PCB design quickly according to our demands. The developers from ASN Plus s.r.o. have managed it to our full satisfaction and thanks to it, ASN Plus has become our longterm partner.
ASN Plus s.r.o. uniquely combines solid electronics engineering know-how with a sharp sense for commercial aspects like manufacturability, life cycl cost and economie of scale. All combined with affable customer support, direct links to the technical experts and a can-do attitude. We look forward to continuing our collaboration with this fine team.
ASN Plus has managed to redesign electronics including firmware adhering to the budget and time scale at the same time. Their solution helped to fix the pain points of the product, which were the reasons for product innovation. Due to provided quality outputs and precise attitude of ASN Plus we will be happy to continue contributing on this and future projects.
We consider ASN Plus s.r.o. company as a strategic partner in the field of mictroelectronics and fimware and apps. We have managed to solve all the challenges thanks to their know-how in development and our transparent and effecient cooperation. ASN Plus s.r.o. has helped us to reach the significant position on the market.
We successfully cooperate with ASN Plus s.r.o. company on prototype development of IoT devices in long term.
Let's consult your project!