Digitalization - An Essential Step for Modern Business
Technological advancements in recent years have dramatically changed the environment in which companies operate. To be successful, they must keep pace with the latest trends and leverage digital solutions to their advantage. One of the key trends is the digitalization of products - adding "smart" features using sensors, connectivity, and software. Why is it important for companies to take this route?
Digitalization of products offers numerous benefits. It allows companies to gather valuable data on product usage, create new services for customers, and differentiate from competitors. Smart and connected products also help companies better understand customer needs and respond more quickly to market changes.
Customers today expect personalized experiences and want products that make their life easier. If companies can't keep up with these expectations, they risk losing customers to more flexible competitors. Hence, digitalization is crucial for maintaining competitiveness.
In the following chapters, we will take a closer look at the significance of digitalization for companies, the process of integrating electronics into products, and how the ASN Plus company can assist with the realization of projects in this area. We will also explore the economic aspects of digitalization and summarize key recommendations.
Digitalization and its Importance in Today's Market
Rapid Technological Development and Changing Customer Expectations
In recent years, we have witnessed rapid advancements in the field of information technology. There are continually new possibilities for connecting physical objects with the digital world. Internet of Things, cloud computing, artificial intelligence - all these open doors to products that were previously unthinkable.
Customers utilize these technologies in their daily lives, and therefore expect similar features from company products. They want products that simplify their life, save time, and provide personalized experiences. Traditional analog products are no longer sufficiently appealing to them.
Therefore, companies must digitalize their portfolio if they wish to meet the changing needs of customers. Otherwise, they risk losing customers to more agile competitors. Digitalization is essential for maintaining competitiveness.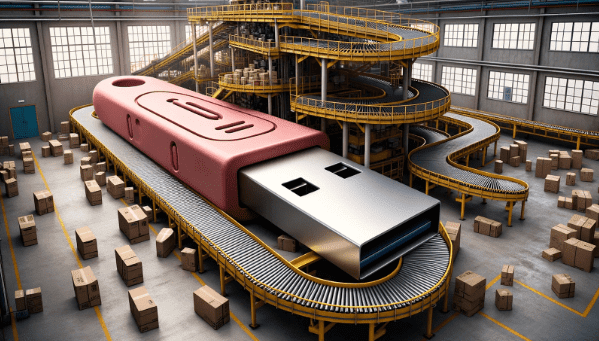 Opportunities and Challenges Associated with Product Digitalization
Product digitalization offers many opportunities but also poses certain challenges. Key opportunities include:
Better customer experiences - sensors and connectivity allow products to better respond to user needs.

Acquiring valuable data - connected products generate usage data that companies can utilize for developing new services.

Differentiation from competitors - unique digital features help distinguish products in the market.

Creating new business models - e.g., offering services instead of one-time product sales.
On the other hand, digitalization also presents challenges:
Higher development costs - especially initially, investments in HW/SW development are needed.

Increased complexity - integrating electronics and interfacing with systems requires new skills.

Security risks - connected devices can be vulnerable to hackers.
Companies must find an optimal balance between opportunities and risks to maximize the benefits of digitalization. Data and system security is especially crucial.
Examples of Successful Transitions to Digitalization
Although digitalization poses certain challenges, many companies have successfully implemented it, significantly enhancing their market position. An example is John Deere, a manufacturer of agricultural machinery.
John Deere began adding sensors and connectivity to its tractors and harvesting machines. Customers thus obtained detailed insights into machine operations, including fuel consumption, productivity, and required maintenance. Tractors became capable of autonomous driving.As a result, John Deere created several digital services for optimizing fleet operations. Customers gained valuable data insights, helping them increase efficiency. John Deere strengthened bonds with customers and differentiated from competitors.
Another example is Bosch, which digitized regular household appliances. Their refrigerators, washing machines, and ovens are now equipped with connectivity and apps for remote control and monitoring. Customers thus gained more convenience and control over their appliances.
These examples demonstrate that digitalization can offer significant benefits when executed correctly, considering customer needs. However, each company must find a route best suited to its products and business model.
Starting with Electronics Integration
Evaluating the Current Product and Identifying Integration Opportunities
So, how to practically start product digitalization? The first step is to thoroughly explore the existing portfolio and identify opportunities for adding "smart" features. Important questions to consider are:
What main problems or needs do our customers have that could be addressed with digital technologies?

How could we differentiate our product from competitors using digital features?

Where in the production process or product usage do most data emerge that we could collect and analyze?

Which sensors might enhance the product's performance from the user's perspective?

How might our product be interconnected with a customer's IT systems?
Based on these considerations, one can identify the most promising areas for integrating electronics and connectivity. It's essential to involve both technical expert teams and business and marketing representatives with in-depth knowledge of customers in this analysis.
Most Common Obstacles and How to Overcome Them
When introducing electronics into existing products, it is common to encounter certain obstacles. Among the most common are:
Limited space in the product - Integrating electronics requires additional space. Component arrangement optimization is needed.

Higher costs - Sensors and connectivity increase both acquisition and operational costs. Return on investment must be carefully considered.

Complexity - HW/SW development requires new specialists. We recommend collaboration with an external developer.

Security - Connected devices are potentially vulnerable to hackers. Security must be a top priority.

Integration into IT systems - Connecting with customer systems can be complicated. Close cooperation on both sides is needed.

Regulations - Digitized products are subject to new regulations, e.g., privacy protection. It's important to monitor legislative requirements.
With the right approach, the aforementioned obstacles can be overcome. The key is a multidisciplinary team considering technical, financial, and customer perspectives. In many cases, collaboration with an external developer experienced in similar projects is beneficial.
Advantages of Collaborating with an External Partner in Electronics Integration
Collaborating with an external development partner offers numerous benefits:
Expert know-how - The external company possesses the necessary technical knowledge and experience with implementing similar projects.

Flexibility - You can utilize resources that the project currently requires. There's no need to build an expensive internal team.

Speed - An external company can deliver results faster than if you were building your own capacities.

Cost-effectiveness - Collaboration is also financially rewarding, especially for small and medium-sized businesses.

Experience across various sectors - A reputable developer has collaborated with companies across many industries, bringing valuable know-how.
Therefore, when digitizing products, westrongly recommend considering collaboration with an external partner. They can help overcome technical and business challenges, accelerating the launch of smart products to the market.
Economic Aspects of Transitioning to Digitalization
Digitalizing products also necessitates considering economic impacts. It's essential to find an optimal balance between costs and benefits.
External Costs vs. Internal Costs in Product Digitalization
As previously mentioned, external development is more cost-effective than expanding internal capacities. Based on our experience, external costs make up about 50% of internal costs.
Exact numbers, of course, depend on the scope of the digitalization project. Regardless, using an external partner reduces the need for significant internal investments that might be hard to recoup.
How to Properly Assess Costs in Digitalization Planning
When planning, it's vital to consider the total TCO (total cost of ownership). This means not just initial development expenses but also operational and maintenance costs of digital systems.
We recommend creating a detailed financial model that includes:
Costs for HW, SW, and developers

Entire project management

Operational expenses for connectivity, cloud services, etc.

Maintenance costs, security, and system development

Expected returns from new digital services

Cost savings from more efficient processes
Based on such an analysis, you can determine the optimal scope of digitalization that offers the highest return on investment. We're here to assist with this.
ASN Plus - Your Reliable Partner in Development
ASN Plus boasts years of experience in electronics and software development for various sectors. We're eager to assist with your product digitalization and will recommend the most suitable technologies considering your needs.
How ASN Plus Can Help Integrate Modern Communication Technologies into Your Product
Our experts will assist you in selecting and integrating suitable communication technologies such as:
Bluetooth - for wireless product connection to mobile devices

Wi-Fi - for internet access and IT system integration

Cellular - for connecting to 2G/3G/4G/5G mobile networks

NFC - for short-range contactless data transfer

RFID - for object identification using radio waves
We have experience with processors, modules, and chips from leading global suppliers. We'll assist with electronics design, firmware development, and backend system integration. We ensure communication technologies are integrated optimally for your needs.
ASN Plus's Custom Development Approach and its Significance for Market Success
At ASN Plus, we always strive to understand each customer's specific needs and design tailor-made solutions. Product digitalization varies across sectors, such as logistics, agriculture, and industrial automation.
Thus, we'll work closely with you from the project's inception to maximize digitalization benefits specifically for your industry and products. We'll involve your technical and business teams, analyze user data, and design an ideal hardware-software combination.
Such a custom approach, rooted in a deep understanding of your business, is the key to successful market digitalization. We can help differentiate you from competitors and deliver genuine unique value to your customers.
Project Implementation with Emphasis on Communication Technologies and Adherence to Deadlines and Budget
During project implementation, we always emphasize three key aspects:
Communication technologies - as experts in this field, we can design and integrate the best communication solution to connect your devices.

Adherence to the timeline - with our experience, we deliver projects within the stipulated timeframe, enabling timely market introduction of digital products.

Budget control - we understand the financial challenges of product digitalization. Our projects are cost-effective and tailored to offer maximum ROI.
We utilize modern project management techniques, ensuring optimal resource allocation and timely delivery. Your satisfaction is our top priority.
If you're considering product digitalization, ASN Plus is the ideal partner. We offer the technical know-how, industry-specific expertise, and the ability to deliver projects on time and within budget. Collaborating with us will lead to successful product digitalization that stands out in the market. Don't hesitate to reach out to discuss potential collaboration and to learn more about our services.