Case studies > Chamber control unit
MP Elektronik corporation is a provider of complex services for the electrotechnical industry on the Czechoslovak market since 1990. It produces MP Dry Cabinet devices, which are being sold all over the world. MP Dry Cabinet is an air-conditioned chamber which keeps constant climate conditions for electronic components storage.
MP Elektronik was seeking for a development partner to help them with control unit hardware design and control software development. They addressed our company ASN+ with these requests. We agreed about the cooperation and we started to create a specification. The cooperation goal was total innovation of the device which should provide an edge over the competition to MP Elektronik.
Control unit is based on compute module 4 and embedded Linux. It controls individual chamber peripherals, such as the drying unit. We have also implemented a number of types of communication such as Modbus RTU, USB, Ethernet and Wi-Fi.
We developed a desktop app, which differentiates user permissions and supports several verification types such as PIN, RFID, or fingerprint. Last, but not least it was important to implement an option of detailed event logging to a local or remote directory to be able for chamber access tracking. The app thus contains an option of remote unlocking additional extra paid features.
The communication with the chamber is covered by a web app which we have developed as well. It enables the monitoring of climate conditions remotely with a feature to export measured data.
We continue to cooperate with corporation MP Elektronik on features extensions based on customers needs. We are planning a whole platform extension with a mobile app.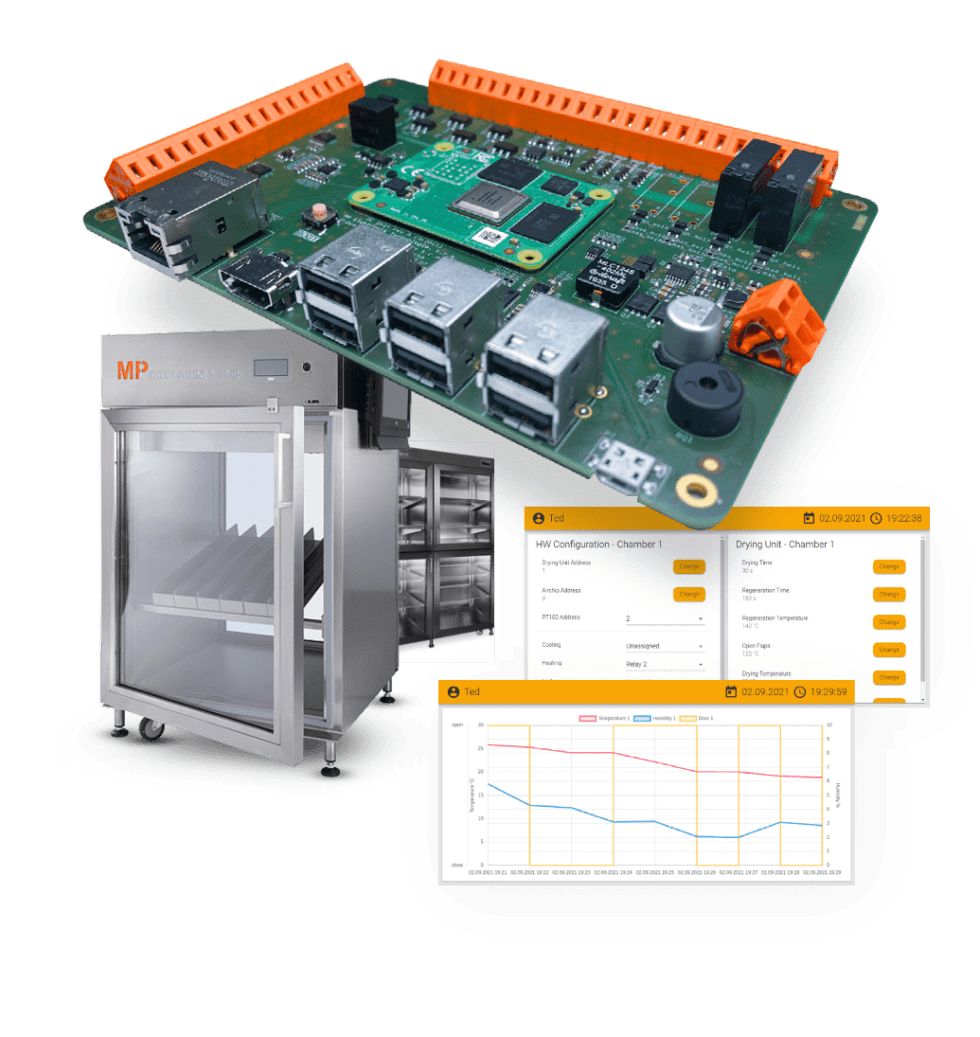 Summary:
Broadcom BCM2711 quad-core Cortex-A72

RS-485, Modbus RTU, Ethernet, USB, Wi-Fi
HDMI, touch control display
RTC, PT100, Digital I/O
Outputs - Relay, Low-side switch
RFID or fingerprint for authorisation
Embedded Linux
eMMC
Backup data on USB and to shared folder on local network
RSA digital signature for remote features unlocking
Cabinets monitoring from PC via web app
We needed to create PCB design according to our demands. The developers from ASN Plus s.r.o. have managed it to our full satisfaction and thanks to it, ASN Plus has become our longterm partner.
ASN Plus s.r.o. uniquely combines solid electronics engineering know-how with a sharp sense for commercial aspects like manufacturability, life cycle cost and economie of scale. All combined with affable customer support, direct links to the technical experts and a can-do attitude. We look forward to continuing our collaboration with this fine team.
ASN Plus has managed to redesign electronics including embedded software adhering to the budget and time scale at the same time. Their solution helped to fix the pain points of the product, which were the reasons for product innovation. Due to provided quality outputs and precise attitude of ASN Plus we will be happy to continue contributing on this and future projects.
We consider ASN Plus s.r.o. company as a long-term strategic partner in the field of microelectronics, embedded software and apps. We have managed to solve all the challenges thanks to their know-how in development and our transparent and effecient cooperation. ASN Plus s.r.o. has helped us to reach the significant position on the market.
We successfully cooperate with ASN Plus s.r.o. company on prototype development of IoT devices in long term.
Clients who have given us trust
Let's consult your project!