Case studies > Electronics and apps for airsoft
Electronics and apps for airsoft
JeffTron company is one of the world's leading manufacturers in the field of smart electronics for airsoft guns. Company's flagship is a control unit for airsoft guns called Leviathan. In August 2018, Jefftron was looking for a long term partner for embedded software development and they addressed us. We have developed the first embedded software commercial version for their control units including bootloader.
Thanks to our efficient and close cooperation just like it was internal development, we have managed to develop first commercial version in time. Jefftron was able to present it at the IWA OutdoorClassics 2019 in Nuremberg.
We continue to cooperate on embedded software extensions according to the company Jefftron's customers requests. Leviathan devices are being continuously upgraded via remote update feature and thus Jefftron is still keeping an edge over the competition.
We cooperate on the new hardware versions and product development and we help Jefftron with a serial production.
We have agreed to take over mobile app development, which communicates with Leviathan control unit via Bluetooth Low Energy. Solution analysis and evaluation of possible approaches followed. Finally we have decided to create whole brand new app. The main reason was that previous app was natively programmed and it would need complete factorisation. We have chosen multiplatforms framework Flutter for app creation. Its main advantage is that if an app for both Android and iOS is created, there is no need to create and maintain two source codes separately. It thereby enables faster and cheaper development. If you are interested in more information about differences between native and multiplatform development, you can read our article about this topic.
We have developed apps for Apple Watch and Wear OS as well.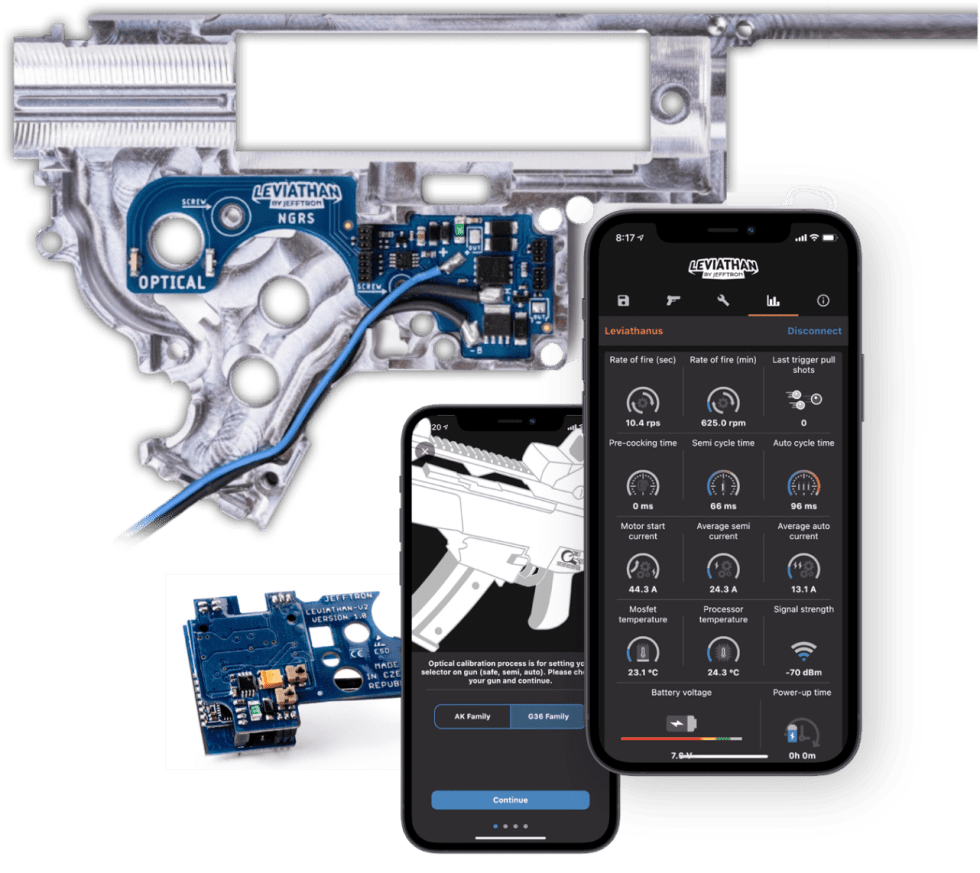 Summary:
STM32 ARM® Cortex®-M

Bluetooth Low Energy

Embedded software for four Leviathan models (V2 Optical, V3, EVO3 and NGRS)

Mobile App Leviathan (Android and iOS) for gun parameters setting and embedded software update via bootloader

App for identification of defective pieces during manufacturing

Leviathan app for smart watches
Company Jefftron currently sells four models of Leviathan line, of which were sold tens thousand pieces all over the world. We have been communicating on a weekly basis over the years with JeffTron. We continuously invent and implement improvements for hardware, embedded software and for all types of apps mentioned above.
We needed to create PCB design according to our demands. The developers from ASN Plus s.r.o. have managed it to our full satisfaction and thanks to it, ASN Plus has become our longterm partner.
ASN Plus s.r.o. uniquely combines solid electronics engineering know-how with a sharp sense for commercial aspects like manufacturability, life cycle cost and economie of scale. All combined with affable customer support, direct links to the technical experts and a can-do attitude. We look forward to continuing our collaboration with this fine team.
ASN Plus has managed to redesign electronics including embedded software adhering to the budget and time scale at the same time. Their solution helped to fix the pain points of the product, which were the reasons for product innovation. Due to provided quality outputs and precise attitude of ASN Plus we will be happy to continue contributing on this and future projects.
We consider ASN Plus s.r.o. company as a long-term strategic partner in the field of microelectronics, embedded software and apps. We have managed to solve all the challenges thanks to their know-how in development and our transparent and effecient cooperation. ASN Plus s.r.o. has helped us to reach the significant position on the market.
We successfully cooperate with ASN Plus s.r.o. company on prototype development of IoT devices in long term.
Clients who have given us trust
Let's consult your project!